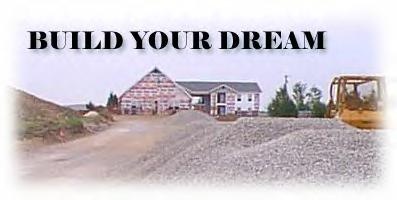 You've come to the right place to satisfy your interest in any aspect of real estate investment or creative real estate investing.
If you like to invest in:
Foreclosures
Lease Options
Notes and Trust Deeds
Tax Liens
Buy and Hold
Fixer Uppers
Lease Purchase
No Money Down
Tax Certificates
Commercial Real Estate
Rehabs
Rent-to-Own
Hard Money Loans
Tax Deeds
Multi-family
Apartments
Real Estate Link is your home for creative real estate investing. Realestatelink.net is dedicated to provide you with the resources and tools you need to ensure your financial success and financial freedom though real estate investing
Well, it's here.
A German Philosopher Arthur Schopenhauer said: "All change passes through three stages. First, it is ridiculed. Second, it is violently opposed. Third it is accepted as self-evident."
To the West John Stuart Mill, the English philosopher, said, "Every great movement must experience three stages: ridicule, discussion, adoption."
And finally, Mahatma Gandhi said, "First they ignore you, then they laugh at you, then they fight you, then you win."
Here are the changes you will find with the site.
I.The Real Estate Newsgroup.
The newsgroup has been enhanced and is now called the discussion forum. Now you will have a specific account which will help you navigate your posts and be acknowledged for your participation.
The previous group is available. You can find the archives here. While the ability to post has been removed, the new forums are ready for your posts on all aspects of real estate investing.
We encourage you to go to the archives and transfer any of your posts you really want to see on the site. Additionally, we've taken the liberty to transfer some of the most current real estate posts already!
Your new forum system is full of additional power. To read more about this positive change, click here.
II.The Real Estate Articles.
All of the free real estate investing articles display consistently with an image of the author along with their real estate educational content.
The articles were placed on the web with an eye toward readability and with a special link to make it easy for you to print and add to your personal real estate education notebook.
III.The Real Estate Link Classifieds.
Users were very concerned we were going to do away with the classified section. We have not. You'll find that Real Estate Link is the friendly resource and community for real estate investors—we listen to you.
You can find the classified advertising here.
IV.Real Estate Home Study Courses.
Courses are still available from many of the real estate advisors you know and trust. Even now, the home study programs are being reviewed (expect to see product reviews and the ability to add your own!) and be ready to see new real estate experts presented.
In fact, if you know of any Real Estate educators and resources not represented, email me at [email protected] with your suggestions and contact information of the suggested resource
V.Real Estate Investor Associations.
The directory of REIA groups has improved.
If you're a leader of a REIA you will want to register here to be able to update your own REIA site.
No matter where you live in the US , visit the directory by clicking here, to find local groups.
How about our investor friends around the world? Let us know about your group too!
VI.The most important change or not?
The most important change is really no change at all. It's a renewed commitment to friendliness and responsiveness. In order to support this, we will be sending all the members of our team list (email mailing list) a link to a questionnaire on how we can serve you even better.
It's my sincere hope you find the changes ones which serve as self-evident. This community exists for you and because of you. Please share your enthusiasm for the site with your other real estate investing enthusiast friends and team members.
As you're thinking about who to invite to join the community, please send me feedback at [email protected] .
By my hand,
Tim Brown,
Webmaster